Now available on Desktop
Everyone likes to receive an acknowledgement for something good that they have done. It makes them feel appreciated, valuable. Those who give acknowledgements feel good to and if you're an employer you get the added benefit of your employee feeling happier in their job.
"Linkedin Kudos has now made it even easier to give recognition to individuals, groups, colleagues and staff. And you can now do this from the comfort of your desktop."
While Linkedin has always allowed us to give our connections recommendations and endorsements, #Kudos now makes this even simpler. Kudos was rolled out earlier this year for iOS and Android and while it still feels a little clunky on Desktop it's certainly worth adding to your toolbox.
So, want to say thank you to a colleague for a job well done? How about recognising an individual for going the extra mile? Would you like everyone to know just how much you appreciate the support that a mentor has given to you? Well now you have Kudos to help you do just that.
Here's' how it works on Desktop: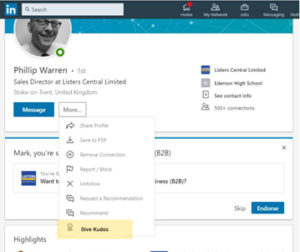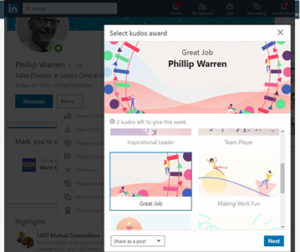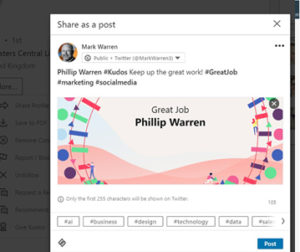 Login to Linkedin and go to the page of the colleague, connection that you want to thank.
Below their picture click the tab marked 'More' to reveal a drop down list.
At the bottom of that list you'll see "Give Kudos".
Click "Give Kudos" to open up the new Kudos box.
You'll notice that your connection's name is at the top of the box and below are a series of smaller tabs to choose from. For example: 'Thank You', 'Going Above and Beyond' and 'Making Work Fun'.
Choose and click the tab that best fits the type of acknowledgement that you want to give
You'll notice that the header with the contact's name has now changed to your selection.
Before clicking 'Next' you have a choice to make. In the bottom left-hand corner there is a tab marked 'Share as a post'. If you click the tab another option appears, 'Send as a message'. So you need to choose whether every one of your connections gets to see your posted Kudos (Share as a post), or, if you only want your connection to see it.
When you've made your choice, click "Next".
You can now see the Message/Kudos that you want to send. You now have the opportunity to add more to the message. Perhaps mentioning the specific task, job or skill that you are giving them Kudos for.
I would suggest that you don't change the Linkedin generated hashtags, but you can add more as necessary.
When you're all done… Click "Post" and your Kudos is on its way to your connection and the wider audience if selected.
So there we go… 'Kudos', simple and easy to give and great to receive.
Remember that if you choose to 'Post' your Kudos, all your connections and the wider audience will see it, so choose your words wisely.
LinkedIn Kudos is limited to just three connections a week at the moment.
I imagine that Linkedin will polish this method of recognition as we move forward but for the moment whether you use the Desktop version or Mobile app it is going to become a major feature on Linkedin.
At the moment of writing, you can only give Kudos to those who you are already connected too. As this feature grows, you should start seeing Kudos posts in your news feed from people who have chosen to 'Post' rather than 'Send' privately. So as you notice individuals receiving lots of Kudos, you may just find some new potential connections.
I hope that this item helped you to start using Kudos to reward your connections or just to say Thank You to those that you appreciate.

For more interesting and topical posts… Please follow my #Linkedin: ActSocial BusinessPage